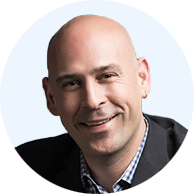 Fix I.T. has been around since 2002 as a respected leader in the IT industry and community. We handle all aspects of your IT infrastructure from hardware and software management to any other technology related needs — we're truly your IT one-stop-shop. Here, we only hire professional technicians with at least 5-10 years of experience to ensure the uncompromised expertise and knowledge necessary to provide you with the IT support and solutions you deserve.
Our service is proactive, meaning we don't wait for things to break and then fix them, but instead manage your network 24/7 to identify issues and address them before they affect your business. Our quick response time (one hour or less guaranteed) ensures minimal downtime so you can get back up and running as quickly as possible in case of any problem. We won't boggle you with geek speak and we will do whatever it takes to make you happy.
JEFF JANKNEGT, IT ARCHITECT AND OWNER OF Fix-I.T.
A born entrepreneur and geek at heart, Jeff has launched as well as managed numerous successful businesses including a comic book store, a graphic design company, a catering company and several restaurants. Fix-I.T. is an I.T. service and solutions company based in Toronto, Canada. Jeff launched Fix-I.T. in 2003 after finding himself constantly solving computer issues free of charge for his family and friends. Now he provides I.T. solutions to hundreds of small businesses and thousands of individuals, specializing in security, productivity, solutions and I.T. efficiencies. Always on the cusp of new information technologies, Jeff has a few ideas brewing about simplifying communications. In his spare time, the licensed chef, husband and proud father of two enjoys spending time with his family, and especially cooking for them.